Latest episode:  Dan Navarro – best known for being in the super duo Lowen and Navarro – writers of We Belong, the mega hit for Pat Benatar.
---
A music interview podcast that explores the world through conversations with entertainers, musicians … guitarists, bass players, keyboardists, managers, roadies, recording engineers and people who make a living on stage and behind the scenes. Hosted by Hal in Philly (Hal Aaron Cohen).
If you have a tale to tell, we should talk.
If you spend (or have spent) a good part of your life on the road, in hotels, motels, performing in venues of any size, toured with a band, travel the country doing house concerts, play local gigs from tribute bands, cover bands, back up  bands, one-man-bands…
Let me know if you have a concert or a new project to promote, I'll try to schedule the podcast release date to coincide with your event.
Please call (818) 730-3600 and let's set up a date and time for a Skype, Facebook or Face Time interview. You can also send a message through the form in the sidebar or contact page.  This is going to be great. I promise!
Don't forget to sign up for the TotRW News!
In Philly
---
Ways To Listen to This Podcast:
#Ad
Need a great gift for the musician in your family or the one crashing in your guest room?
---
Past Episodes
Steve Schalchlin Part 2  – Steve talks about his miraculous recovery, his internet diary, Living in the Bonus Round – and then, his award winning, long-running Off Broadway play, The Last Session. Later, he shares a secret to attaining true success.
Steve Schalchlin – Part 1 – singer/songwriter, a playwright, composer, an AIDS survivor. His story is unique, near-tragic, but ultimately uplifting. A Must Hear!
The Ronstadt Brothers. Petie and Michael Ronstadt talk about Aunt Linda and growing up in the  musically diverse Ronstadt Family. They share stories about the music, some laughs and a few tales of the road.
Lyra Project  Zero Emission Musicians, Debra Lee & Rick Denzien are spreading a message of eco-sustainability and well-being among musicians and the public at large. They work together and in collaboration with other exceptional songwriters  and musicians.
James Lee Stanley is the epitome of the term road warrior. He tours year round, performing house concerts with his unique brand of music and humor. From coast to coast, they gather in living rooms, coffee houses, church auditoriums and various music halls and listening rooms to be entertained by this modern day Will Rogers and free lance human being.
Brett Perkins  – Brett is an energetic, outwardly bubbly, positive  guy who has a Paul McCarneyish vibe and his songs run the gamut of styles and emotions. He plays as a solo, as a duet with his lovely french lady named Magali Michaut, or his band the Pawnshop Preachers. He's also often joined on stage by his daughter, 10-year-old Liva.
Jodi Krangle  – Like me, Jodi was an early adapter and like me, created and published kn one of the earlier online resources for songwriters. In 2015, she released an album "Time Will Tell".  Today she is a popular voiceover actor and podcaster.
Reflecting On Don Rickles   – Alittle story about Mr. Warmth. That was the nickname given to him by his peers becausehe was the most scathing insult comic that ever lived.
Philly Podfest!    Live episode featuring a panel discussion at the Tattoed Mom on South Street in Philadelphia hosted by Hal in Philly with Dan May, Lizanne Knott and Ciara Grace.
Decompressed! – I'm flying solo again in this episode…
Topics: Philadelphia Podcast Festival (Philly Podfest), Podcast Movement 2019 (PM19), Anniversary of Woodstock and a nod to the Atlantic City Pop Festival.
Me, Jamie Sherriff and the Ghost of Marilyn Monroe  – This time, I'm driving alone, as I often do. Included is an update on the state of the podcast, one of my own stories, that took place in my singing waiter days in Santa Monica – and what to expect after a brief hiatus.
Bob Malone – Bob is the keyboardist for John Fogerty. He also rocks out on accordion during a wild solo preceding Out My Back Door.  And don't ever miss an opportunity to catch Bob's solo act or with the full Bob Malone Band – sometimes with his fabulous backup singers, The Malonettes (one of which is his wife, singer/songwriter Karen Nash)!
Jay David – Jay was the drummer for Dr. Hook and the Medicine show from 1968 till 1973. He recently recorded a parody called On the Cover of the AARP. His latest project is dedicated to helping shelter dogs. Jay shared some  great stories and I think you'll really enjoy his inimitable sense of humor.
Phil Leavitt – Phil is the drummer for the exciting and edgy, blues based, alt-rock band 7Horse. His Tales of the Hollywood Freeway are practically incomparable. Great writer. Great story teller, fabulous drummer, songwriter and  musician!
Lisa Nemzo – A woman of two passions. When she wasn't rocking audiences worldwide, she was learning the art and science of healing through polarity therapy. Today, Lisa is still a healer, a singer/songwriter, musician and producer in Southern California.
Jon Michaels – From Los Angeles to Nashville to South Carolina, Jon's has written and performed award winning songs, swam with sharks and manta rays and opens up about his life and family.
Lee Totten – The Jager Guy. One of the original contributors to the Tales of the Road Warriors section of Li'l Hank's Guide for Songwriters.
Joe Walla – The aka Million Dollar Man. Joe went from a successful sale guy to acclaimed rock musician. He's played up and down the California coast and now tours the U.S. playing racing events, and hosts  a popular Youtube Channel "Rockin' and Racing with Joe Walla and Chris Seaward,
 Tzach Gefen – one half of the team that hosts the TBI Podcast aka Talkin' Bout Israel – and Stuff with his co-host: Mike Leibsohn
Johny Koolrock – How I became the legend of Blythe, CA
Andy Cahan – The most famous musician you never heard of. Andy was along-time keyboardist for The Turtles. HE also worked with George and Ringo, Harry Nilson, Frank Zappa
Tony Gamble – a bonafide shredder on guitar and ukulele. Tony recently signed with Warner Brothers Latin 
Kenn Kweder – Philadelphia's own rock n' roll legendary icon talks about a whole lot of things as we dive into his past and explore his current projects.
Johnny Roquemore – Roquemore  celebrated his 30th CD in 30 years (he releases a new CD every year). It's called "The 30th Album."
Earl Okin – The only person to have ever opened for Paul & Linda McCartney and WIngs. At 72, he's still performing and has a podcast of his own!
Peter Tork Tribute – Remembering the man before, during and after his success  as our favorite  Monkee.
Thank You From Hal– Episode #4: A short "Thank You" for listening
Rick Denzien – Rick Denzien – Zero Emission Musician is an award-winning singer/songwriter, eco-activist, owner of bäh-fō studio, and an advocate for renewable energy and sustainability. 
Dan May – Dan May is one of the most popular singer songwriters in the Philadelphia area. He often visits his home town of Sandusky, Ohio where he still performs for his longtime friends and fans.
Liz Miller – Liz is one half of the power-duo The XConditionals. She manages to balance a nursing career and a music career, yet still finds the time to be a wife, and mother of two kids.
Chad Watson – is a world class bass player… Artists he's toured and/or recorded with include John York, Ronnie Milsap, Charlie Rich, Freebo and Bonnie Raitt, James Lee Stanley, Chris Hillman, The Burrito Brothers, Janis Ian, Ezra Mohawk and many others.
Gary Mazzola – Mazzola has been writing songs all his life and for the past few years since developing Parkinson's disease, he's devoted all his time to the art form. He is also directing plays at the local theater. (most recently, Young Frankenstein – the Musical)
Laura Cheadle – a funkadelic singer/songwriter from New Jersey Girl, who has been kicking off the new year with several performances.
Introduction to Tales of the Road Warriors – In my first episode, Hal In Philly (that's me) talks a little about the new podcast.
---
Great Holiday Gifts and Merch
If you're like me, you wait until the last minute to buy gifts. So I'm going to help you cover two things at one… find some nice gifts for yourself or others, and help support the shows.
Tales of the Road Warriors Coffee Mug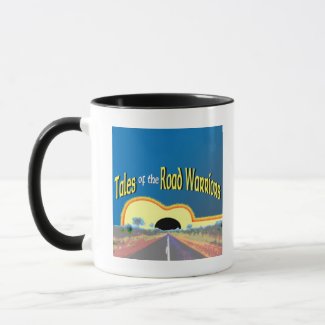 I'm Going For a Drive Coffee Mug
Yes, it's here! If you like the I'm Going For A Drive outro at the end of each episode, then you'll enjoy bringing your favorite hot beverage from and I'm Going For a Drive Coffee Mug  or Tales of the Road Warriors coffee mug!
Thalia Capos and Picks  – Some of the most gorgeous capos, picks and straps you've ever seen…


If you have a musician in the family, you should absolutely check out these products from Thalia Capos. You may have seen their ads on Facebook.They have stunning capos, picks, straps and phone cases made from a variety of select, hand crafted, sustainable woods or abalone.
The Music Stand
The Music Stands offer an intriguing, fun, and unique collection of music and art themed products to wear, decorate your home, enhance your music playing or listening, or give as gifts to all kinds of music lovers. They carry a broad range of apparel, t-shirts, accessories, musicians' equipment, instruments, posters, decorative home and garden accessories, jewelry and instructional materials.